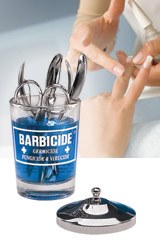 Barbicide Manicure Table Jar is solid, yet compact to fit at the work table. Fully immerses drill bits, tweezers and small tools.
A cotton ball placed on the bottom prevents blunting of instruments.

Constructed of sturdy glass with polished fitted stainless steel cover.

Barbicide disinfectant sold separately.
Capacity 340 ml, height 9cm.