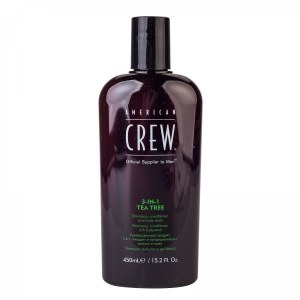 American Crew 3-in-1 Tea Tree 450ml
3-IN-1 TEA TREE
Shampoo, conditioner and body wash

Convenient 3-IN-1 product cleanses and conditions hair and skin leaving it feeling soft and with a refreshing scent.

Application: Apply to wet skin. Rinse thoroughly.

Features: Sodium Laureth, Sulfate Lauryl, Glucoside, and Cocamidopropyl Betaine, Dimethiconeand Hydroxypropyl Guar Hydroxypropyltrimonium Chloride, and Melaleuca Alternifolia (Tea Tree) Leaf Oil

Benefits: Washes away oil leaving hair clean. Leaves hair conditioned, shiny and soft. Leaves the skin feeling soft and smooth. Provides a refreshing fragrance.