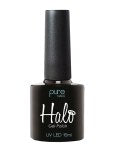 Halo Sparkle Top Coat NW 8ml
Halo Top Coat Non Wipe

Halo Gel Polish is manufactured to the very latest industry formula and provides many benefits to the Nail Tech, including ease of application, fantastic shine and tremendous depth of colour while providing 14 days of chip resistant long lasting shine. This latest formula also means Halo Gel Polish can be removed very easily in less than 10 minutes using acetone.

Halo Gel Polish is completely compliant with UK and EU regulations and can be cured using a conventional 36watt UV Lamp or a 12W LED Lamp.