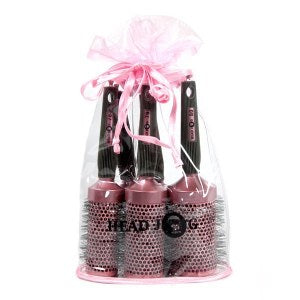 Head Jog Pink Ceramic Brush Set
The Head Jog Oval Pink Brush Set consists of 5 Radial Pink Brushes and a bag.

They are ionic bristle radial brushes with ceramic coated barrels.

Vent holes allow warm air to circulate at the roots of the hair to allow fast, effective blow-drying and styling.

With ergonomically designed handles for easy grip and maximum control.

Also each of them features a removable sectioning pick.

The set contains: 1 x Head Jog 76 (25mm), 1 x Head Jog 77 (33mm), 1 x Head Jog 78 (43mm), 1 x Head Jog 79 (50mm) and 1 x Head Jog 80 (60mm).