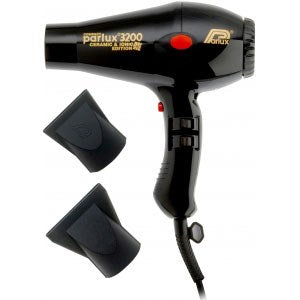 Parlux 3200 Compact Ceramic Ionic
The Parlux 3200 Compact Ceramic Ionic Hairdryer Black measures only 20cm in lenght and weights only 550 grams. This makes it highly ergonomic and perfect for day-to-day use.

The combined effect of Ceramics with a Negative Ions charge permits heat to be radiated directly inside the hair without drying out the hair's external structure. This new technology preserves the natural moisture in the hair, making it shinier, softer and healthier.

This compact model features the new Revolutionary 'K Lamination' motor which is lighter, more durable, and very powerful.

This dryer runs at 1900 watts and gives an airflow rate of 69 cubic metres an hour.

Equipped with two nozzels, the first for a perfect setting of the hair, the second for a fast drying.

The dryer has two speed settings, four temperature settings and the all-important cold-shot button for setting styles.

Supplied with 3 metres long cable.